I watched the Verzuz battle with E-40 (Earl) And Too Short (Short Dawg). It as very interesting to see and hear the nuances with The Bay as opposed to the rest of the West Coast. I found it ever-enlightening, to be honest. But there was some stuff that I didn't fully gather.
First if all, respect to the two legends. Those guys are so powerful and they really speak VOLUMES to the power of The Bay, even if they don't always get the credit. They deserved this! So that leads me to my rumor…
The word on the street is that this "production" cost Verzuz/Apple $500,000! How?! Well, before we go there, it only makes me wonder what the rappers got! There's no way they are going to create a $500k production and not have bread to break off the rappers. 40 Water and Too deserve some of those ends! PERIOD! I also like how E-40 promoted his liquor and so did Too Short. That was boss. Anyway, nobody I know can explain what justifies these costs. What was mentioned was 1) dealing with unions 2) staffing on site 3) the set and things. And, perhaps…the fee for the artists is included in there.
Then there was some of the crazy stuff that happened! People got on Nick Cannon. He was on IG giving up tape on what words meant and people said he was snitching. Peep this: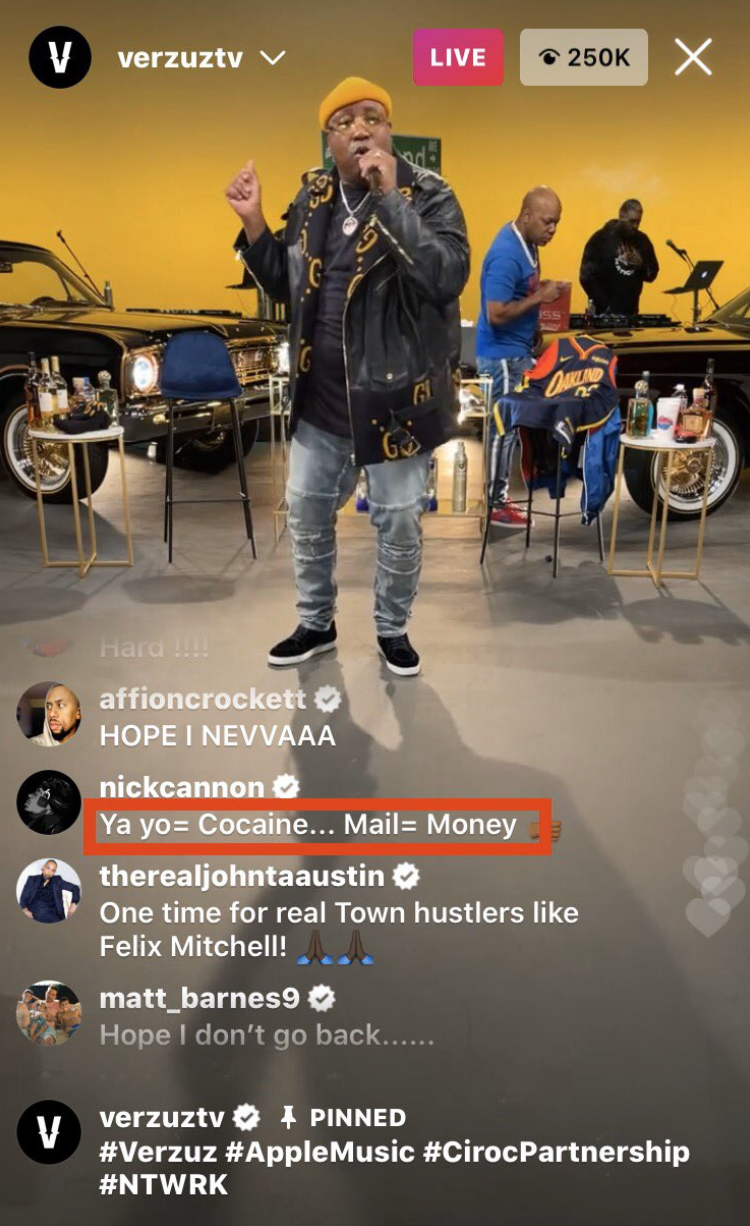 Well, the digital streets didn't miss it and chimed in!
Ahaha that's "Game Goofy" behavior unc was talking about

— SlimThickly (@Kan_Dis) December 20, 2020
Some people expounded, because Nick was just deciphering ALL the slang…not just the drug stuff.
nick cannon in the #VERZUZ comments translating e-40's slang, i'm dead 😭 pic.twitter.com/ecdWvyXDaf

— Daysia Tolentino (@daysiatolentino) December 20, 2020
Nick cannon over here tryna translate the lingo n s###. N#### u from San Diego lol hush

— MAC LANE (@mackin_ass_lane) December 20, 2020
Anyway, Nick still out there doing God's work.
Nick Cannon helps hand out 2,000 donated meals to the Hollywood Food Coalition https://t.co/qWXiDq6jEn

— Daily Mail Celebrity (@DailyMailCeleb) December 16, 2020
 
Anyway, there was a more brazy moment when Too Short blurted out "Yall was selling cocaine!" and 40 cleaned that up. I don't know what Short Dog was on, but people gave him a pass! I think he was drinking something called Sluroc or something! I can't remember!