Funk Flex and Tekashi are back in business! I don't much listen to the radio anymore, but there was a ban on Tekashi's music from the senior level DJ. In a recent post, he suggested it was because 6ix 9ine was a snitch and you don't do that. It seems like Flex realizes the game has changed dramatically since the infamous rat has continued to prosper. I do not know where he's getting all this money, but he is. Or he's on Wish getting that funny money.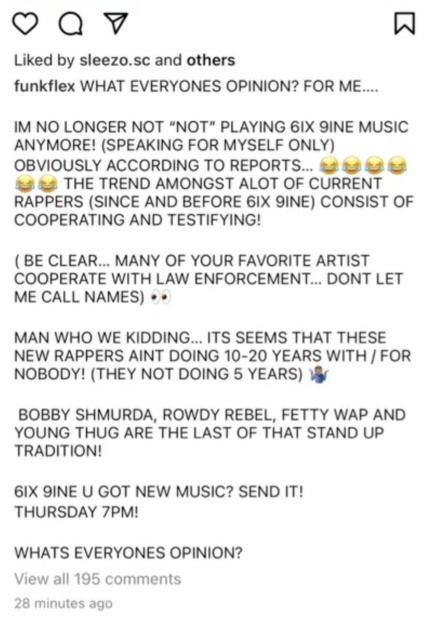 Basically, he uplifts Bobby, Thugger, Rowdy Rebel, Fetty Wap for some reason. It seems to me, Flex may want some of that paper Tekashi is flashing!
OK, he looks ridiculous like that.
For some reason Casanova 2X got omitted from the praise. Remember, he also had a beef with Tekashi. Anyway, the number of people getting cause doing crimes (allegedly) and the number of people snitching is way too high. There's no reason to praise either. Stay outta jail and happy.