Here are some rumors and not-so-rumors. 
Dave Chappelle made a surprise return to San Francisco on Thursday night, performing at the Masonic Auditorium. However, he dissed the city and let them know he was highly disappointed with the current state of the city.
According to SFGATE, Chappelle asked, "What has happened to this place?" It should be noted that Dave has a long history of performing in San Francisco. During his set, he shared an incident where he witnessed someone taking a sh#t on the sidewalk in front of an Indian restaurant, where he had planned to have dinner.  He opted to pass on that.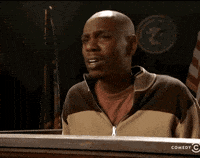 Dave described the city as a combination of "Glee" (the show) and a zombie movie. He further asserted that the entire city now resembles the restaurant he was going to eat in.
Dave ended, "You n-words need a Batman!" emphasizing the need for someone to bring positive change to the city.
Bobby Shmurda Is Ready….
You guys think Bobby is ready to take the city back? He has a new song in the making and people seem to be feeling it. It does not matter that he's only doing ad libs! People respect the energy. 
YSL Case Is Nuts!
THIS CASE IS WILD 😂😂
According to @ajcnews, attorney Suri Chadha Jimenez was held in contempt last week for showing up to court late. Judge Ural Glanville ordered Jimenez to buy lunch for all the other lawyers in the case. He made a suggestion, but  Chadha had thoughts of his own.  Jimenez decided decided to order his lawyer colleagues some Magic City wings. You cannot make this up. 
Even Killer Mike commented. 
NBA Young Boy Says NLE Choppa is FAKE…
I do not understand this one.