Let's wallow in the mud for a second.
More specifically, let us talk about Jonathan Majors and the recent events surrounding him. Earlier this year, the talented actor found himself in MUCH trouble when he was arrested in New York City. He was accused of domestic abuse by his ex-girlfriend, Grace Jabbari. So, It's important to note that Jonathan has consistently – without wavering -maintained his innocence throughout this whole ordeal. Unfortunately, this incident caused him to lose NUMEROUS industry connections and even projects. What added more to his drama, the PR firm repping him even ended their relationship with him! They all assumed him to be guilty!
Song break:
Breaking news happened today, because According to Newsweek, he recently scored a major win after providing evidence to the NYPD. His lawyer has said on the record that Majors recently had a meeting with the NYPD, where he presented them with evidence to share his true on the night in question. "Within hours of viewing the evidence, and conducting their own thorough investigation, the NYPD found probable cause to arrest Grace Jabbari for assaulting Jonathan Majors," she said. "Considering this development, we extend our gratitude to the NYPD detectives for their efforts." She expressed appreciation for the swift action taken by the NYPD detectives in thoroughly examining the evidence and conducting their own investigation. They found probable cause to arrest Grace Jabbari for assaulting Jonathan Majors.
So, why isn't this new breaking and all over the media like before?
You know why! And he knows why too!
Back in March, Majors was arrested and charged with two counts of third-degree assault, aggravated harassment, and attempted assault against a woman. But now, it seems like the tables have turned. Kang the Conqueror has now filed an NYPD domestic violence cross-complaint against his accuser, ex-girlfriend Grace Jabbari – boom! Jonathan's attorney, Priya Chaudhry, confidently stated that the NYPD reviewed the evidence and conducted their own investigation, leading them to find probable cause to arrest Grace Jabbari for assaulting Major King.
In her report to the police, Jabbari claimed that Jonathan had hit her face, causing her significant pain and a cut behind her ear. She also alleged that he grabbed her hand and neck, resulting in bruises and discomfort. However, after Jonathan's arrest, Jabbari sent him multiple texts admitting her responsibility for the altercation and stating that the NYPD had informed her he wouldn't face charges.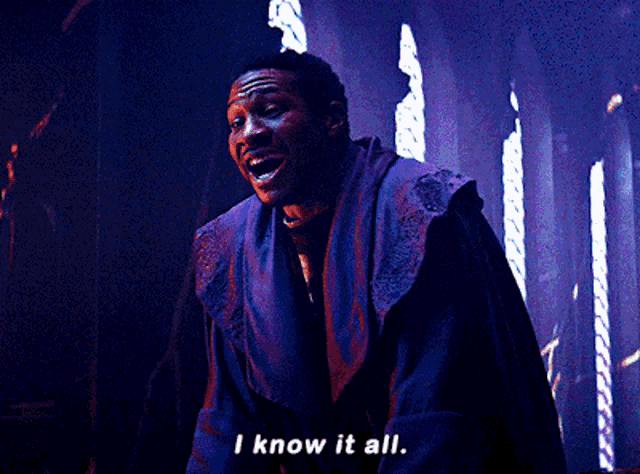 Majors is scheduled for another court appearance on August 3, regarding Jabbari's accusations. Now, we have ate see how things unfold, especially considering the possibility that the NYPD now has probable cause to arrest Jabbari. Unlike many reports, she has NOT BEEN ARRESTED YET.
Rumors have been swirling about the impact this situation might have on Jonathan's role as Kang the Conqueror in the Marvel Cinematic Universe. However, there hasn't been any official confirmation about him being replaced. Reports suggest that he has already filmed his scenes for the second season of Loki, so it seems he'll be returning to the role for now. Marvel and Disney are likely keeping a close eye on the case.
I hope this is all some standard, historical regular Karen stuff with Grace Jabbari. Hopefully, he can move on soon. Godspeed.