So, Moriah Mills has the time. Via, her official Twitter account, she's using those 280 characters to air out Zion Williamson. But why? Well, for compromising her $100,000 "allowance."
Perhaps, frustration is a flimsy understatement. The Only Fans entrepreneur is emotionally reeling. As a matter-of-fact, every couple encounters their share of tribulations. However, her heartbreaks appears to be unfolding in real-time.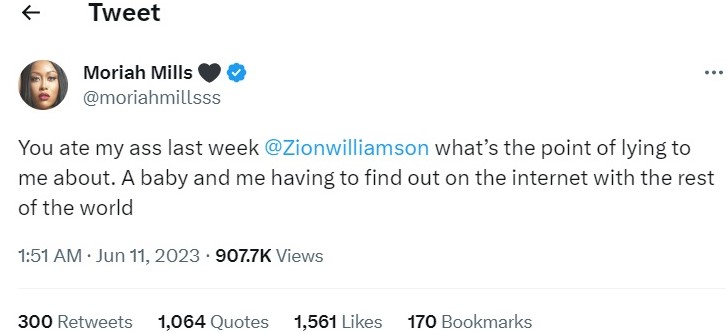 Recently, the kept woman discovered info about the Pelicans prodigy. This life-changing news is that of his pregnancy announcement with Ms. Ahkeema Love. That's right, the spurned lover is more than distraught.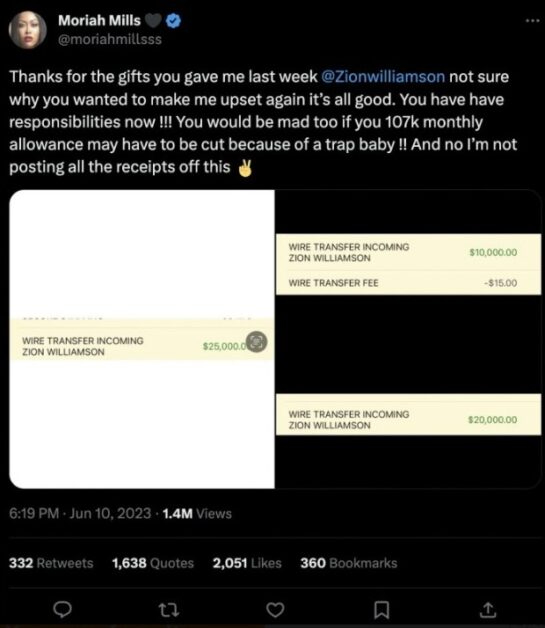 Thus, the shenanigans are unfolding. Just yesterday, a racy tape allegedly capturing an intimate interaction made its social media debut. Interesting… Following that, the receipts have been flying.
"Thanks for the gifts you gave me last week @Zionwilliamson," writes the former thespian. She continues with, "not sure why you wanted to make me upset again it's all good." Then, she insists, "You have responsibilities now!!!"
With honesty, she offers, "You would be mad too if you 107k monthly allowance may have to be cut because of a trap baby!! And no I'm not posting all the receipts off this," a peace sign emoji emphasizes her thoughts.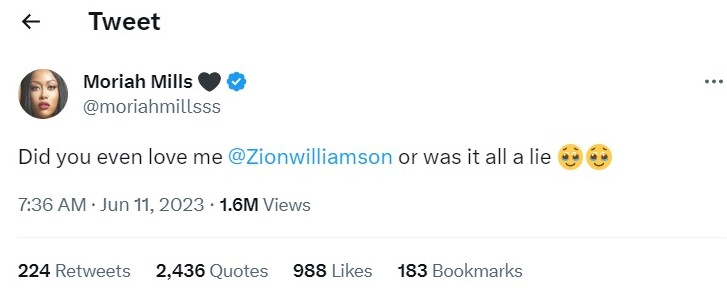 Be that as it may, Moriah Mills seems to still contemplate the status of her alleged relationship. To the professional baller, she inquires, "Did you even love me @ZionWilliamson or was it all a lie," she quips.
Stay tuned as this saga seems to be far from over.