Wack 100 is one of the most interesting dudes in the rap game. At times, he has agitated and other times, be a speaker of absolute facts. Well, on this day, we are calling him a winner. Over the weekend, he had a situation where two men attempted to "bank" him in a fight. He managed to fend them off. One thing that helped was a left hook. As they tried it, he caught and DROPPED one of them smooth down. He got up, but when he did, he was leaking blood. He lost his enthusiasm for fighting at that point leaving his buddy to take on Wack alone. Well, his buddy decided to start snitching "get his plates." See, that is what these cowards do, and they know they can: the become punks when their aggression is met with more force. Call the cops? You double teaming a dude! CORNY!
Anyway, Wack was like "get down, get down" like he was dealing with a pair of rabid dogs. I guess he was in some ways. LOL! What's wild is that the video was taken down off AllHipHop's IG. But we got it off Rob Lane Edits. Check it out here and laugh, because he added his lil edit spin on it to make it more entertaining. I guess that passes the censor dogs on IG. Who knows.
https://www.instagram.com/reel/CJBlb_dhbf4/?igshid=zbp0d0aopd41
Here is the full video.
Here is the statement wack made after the attack attempt.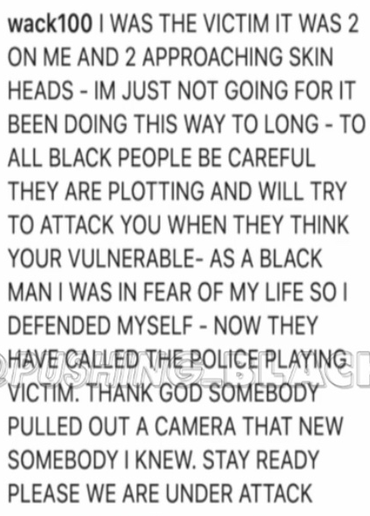 Its always funny hearing otherwise apolitical dudes evoke pro-Black nationalist talk when they get caught out there. Nah, Wack is a soldier. I hope he uses that spirit for the betterment of the people that got him rich. Salute.