Here are the top 10 services for Spotify submission
One Submit
Playlistpump
MySphera
Indiemono
TuneMunk
MusicVertising
Soave Records
Playlist push
Independent Music Promotions
Cyber PR
With more than 345 million monthly active users globally, Spotify is the biggest music streaming platform. Spotify has more than 155 million paid users and it offers a catalog of over 70 million tracks across a wide range of music genres.
How big is Spotify compared to its competitors?
Apple Music has more than 85 million users, while Tidal and Deezer have a few million users each.
Spotify has changed the music industry, and as of today, artists don't need to be signed to major labels in order to succeed and promote their musical careers.
If you are releasing new music as an independent artist, you cannot afford NOT to be on Spotify, It is also very important to be on the platform as an artist and manage your profile so your music, follow your statistics, understand where your new fans are coming from, and decide how to take future decisions regarding your musical career.
The Power of Spotify Playlists
Spotify's playlist placement has disrupted the traditional way of promoting music, offering independent artists a way to promote their music, reach out to playlist curators, and grow as artists while staying independent. This wasn't available for independent artists one decade ago, and that's a big game changer for the music industry.
By the way, Spotify playlist curators can also build a career from managing playlists, gain followers and make an earning from managing their musical assets, but that's for another article.
Before we share our Top Spotify promotion services, it's important to explain what kind of playlists are there, which services are legit, and which are not.
So what kinds of playlists are there, and how do I submit music to them?
There are three types of Spotify playlists: playlists created by users, algorithmic, and editorial.
Playlists created by users
These are individually curated playlists that were made by Spotify users.
Every user has the ability to create their own playlists, and they may decide whether to make them public or private.
The majority of users are casual users who organize their playlists by musical style or theme for enjoyment. Some Spotify users make playlists for more business-related purposes; for instance, they create playlists for bars, restaurants, music charts, workouts, various companies, etc.
The more popular the playlists are, the more exposure your music will get when it is included on one of them.
There is a whole ecosystem of Spotify playlisters and curators since these playlists have grown to be in great demand for independent artists over the past several years.
Some of these playlists are natural and authentic, with real followers, while others are built using fake or bot followers.
Algorithmic Playlists
The Spotify algorithm keeps track of every time you like a song, play it repeatedly, follow an artist, or save a song. Spotify makes a customized playlist based on the listener's musical preferences using the data gathered. Usually, when an artist gets a lot of streams and likes for his new song, Spotify's algorithm recognizes this and starts to add the song to his algorithmic playlists. This could be good news for the artist who manages to get his song on algorithmic playlists.
There are three kinds of algorithmic playlists: Discover Weekly, Daily Mix and Release Radar.
Editorial Playlists
The playlists that the editorial team at Spotify creates are known as editorial playlists. Since they have the most followers, they are regarded as the top Spotify playlists. Because Spotify placed the most popular playlists there, they are the first options when you search for a playlist. As a result, users' listening habits prefer to stream these playlists. The majority of the songs on these playlists are big singles, well-liked songs, or brand-new songs by well-known musicians like Billie Eilish, Kendrick Lamar, Tove Lo, or Michael Jackson. Read more on how to get on Spotify editorial playlists.
Most of the playlist promotion platforms on the market offer Spotify promotions for playlists created by users. You might find some services that offer playlist submission to algorithmic playlists, but these are, in most cases, frauds, so stay away from them.
There's a way to submit music to the Spotify editorial playlist, that can be done throughout your artist dashboard on your Spotify profile, and you can currently submit only your unreleased music. Google about it for more information.
 Which services should you avoid at all costs?
You should always avoid any service that offers you guaranteed playlist submissions, streams, or followers. These are bot-based services, and using them could lead to your account being disabled by Spotify.
Think of it this way: If a playlist would add songs based on a client payment and not based on the quality of the song, it is most likely that this playlist would be terrible and no one would like to listen to it. So as a general rule, when choosing a music promotion service, never choose one that guarantees playlist submission in return for payment.
This article is about the top legit music marketing services that offer artists with new music a way to create a playlist promotion campaign.
Here are the top 10 services for Spotify submission
One Submit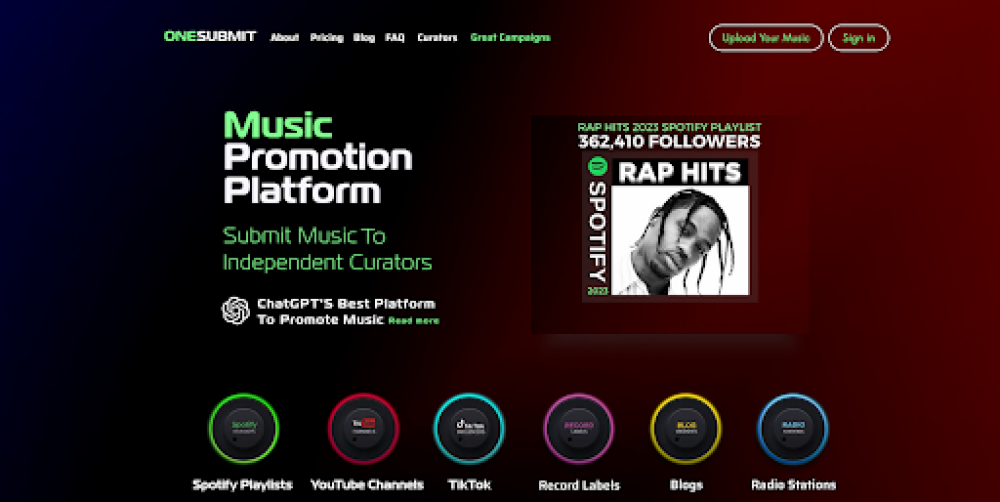 One submit is a Spotify promotion service that helps artists submit music for playlist consideration in an easy and efficient way, with the option to submit music to big playlists with more than 50,000 followers.
As well as submitting music to Spotify playlists, the platform also offers music promotion to TikTok influencers, music blogs, YouTube music channels, radio stations, and labels.
Your music is sent only to independent curators, and for every music submission, you will receive a written review from the curator. If he likes your music, he will add it to his or her playlist. The platform works in multiple genres, including hip-hop, pop, rock, classic, dance, electronic music, and more.
Playlistpump
is an independent playlist marketing and PR firm with the tools to get you heard. They connect the dots for our artists and curators to optimize visibility and streaming statistics thanks to our enormous partners, access to millions of followers across Spotify playlists, Apple Music playlists, TikTok playlists, and a very broad independent playlist network.
MySphera
is an independent marketing and PR firm with the tools to get you heard. They connect the dots for our artists and curators to optimize visibility and streaming statistics thanks to our enormous partners, access to millions of followers across Spotify playlists, Apple Music playlists, TikTok playlists, and a very broad independent playlist network.
They have different plans for campaigns, from $20 to $135.
Indiemono
A number of genre-specific playlists, such as pop, rock, indie, and electronic music playlists, are available on the well-known Spotify playlist submission website known as Indiemono. They offer a straightforward submission form on their website and accept entries from independent artists.
TuneMunk
A platform for promoting music called Tune Munk offer you to submit your new release to a range of Spotify playlists, including ones for different moods and events as well as playlists that are categorized by genre. They provide independent artists with both free and paid submission options.
MusicVertising
MusicVertising is an agency offering music promotion for artists, with different services Independent musicians can submit their playlists for free or for a fee using MusicVertising's playlist submission services. They collaborate with a number of playlist curators and offer a selection of playlists that are particular to various genres, such as hip-hop, rock, and electronic music. Press releases and social media marketing are two other promotional services that MusicVertising provides.
Soave Records
Soave Records has been around for a few years now. it has a vast range of playlists with a nice number of followers and listeners. They have a section for new artists to drop a demo and hopefully get promoted on one of their playlists. They do not accept submissions directly to playlists, but you can submit your song to their label. The service accepts only unreleased tracks.
Playlist push
Playlistpush offers TikTok and Spotify campaigns, they work similar to One Submit. Prices range from $11 per submission, and campaigns are starting at $300, but bear in mind that prices are changing all the time.
The service exists since 2017 and it offers playlist submissions to Spotify curators. 
Independent Music Promotions
Their services are based on an SEO-oriented strategy. The service promises a variety of written music reviews, interviews, radio additions, music podcast features, shoutouts, social shares, and streaming playlists in each campaign. They represent our clients with an art-first mindset and enjoy curating exciting new music, according to their website.
Service is more PR and it is based on pay for consideration.
Cyber PR
Cyber PR is a press agency to promote your music.
They offer Spotify promotion and music marketing, and in addition to coaching artists through the modern music industry and managing social media posting and growth strategies, They develop long-term marketing programs dubbed Total Tuneups, help with the musician's bio, websites, and more. They are not self-service like most of the services we've mentioned here, but they have a personal, old-school touch.
Just before creating your campaign
In some cases, when using these legit services, your song will be rejected by the curators.
We know it could be disappointing and frustrating, but bear in mind that for most of the services we've mentioned in the article, you will receive a review from the curator, If you are willing to take the advice and consider it, this could be very effective feedback for your next song production.
We hope this article was helpful in choosing the right service to submit your music to independent playlist curators. It is important to say that if you have an unreleased track, you'll need to get it on the different streaming platforms, prior to submitting it to the different music marketing platforms and to the Spotify curators. Be sure your release date isn't old enough and you are submitting music to playlists that are similar to your music genre.
Good luck with your music