Ice Cube found himself in the middle of a political firestorm when Donald Trump's 2020 presidential campaign revealed they spoke with the Hip Hop legend about his Contract With Black America and Trump's Platinum Plan. Critics accused Cube of allowing himself to be used as a political pawn. He disagreed and defended his decision to work with the Republicans.
Even though Cube repeatedly insisted Democrats declined a chance to speak with him before the general election, reports came out stating that the N.W.A member actually turned down a chance to talk to Democratic Vice Presidential candidate Kamala Harris about his CWBA prior to Election Day on November 3. Congressman Cedric Richmond, the national Co-Chair of the Biden-Harris campaign, also denied the Democrats rejected Cube's offer to meet.
Before the controversy with Team Trump and the Dems, Cube was facing backlash from sectors of the Jewish community for a series of tweets in June that some people viewed as anti-Semitic. Again, the 51-year-old entertainer offered a defense for his actions. He tweeted, "What if I was just pro-Black? This is the truth brother. I didn't say I was anti anybody."
What if I was just pro-Black? This is the truth brother. I didn't lie on anyone. I didn't say I was anti anybody. DONT BELIEVE THE HYPE. I've been telling my truth. https://t.co/1SnGaGacM9

— Ice Cube (@icecube) June 11, 2020
Ice Cube is now set to speak in front of a mostly Jewish crowd for the non-profit, pro-Israel Zionist Organization of America. The rapper/actor will be joined by ZOA National President Morton Klein, Trump's United States Ambassador to Israel David M. Friedman, Israel's next ambassador to the United States Gilad Erdan, Trump-supporting actor Jon Voight, and others on December 27.
The Zionist Organization of America tends to back conservative policies when it comes to Israel. ZOA has opposed Palestinian statehood, a two-state solution, and the Boycott/Divestment/Sanctions (BDS) movement, but the organization has supported Israel building settlements in occupied Palestinian lands and the Trump Administration's travel ban for Muslim-majority countries. Klein has also been accused of displaying "a pattern of racist and Islamophobic behavior."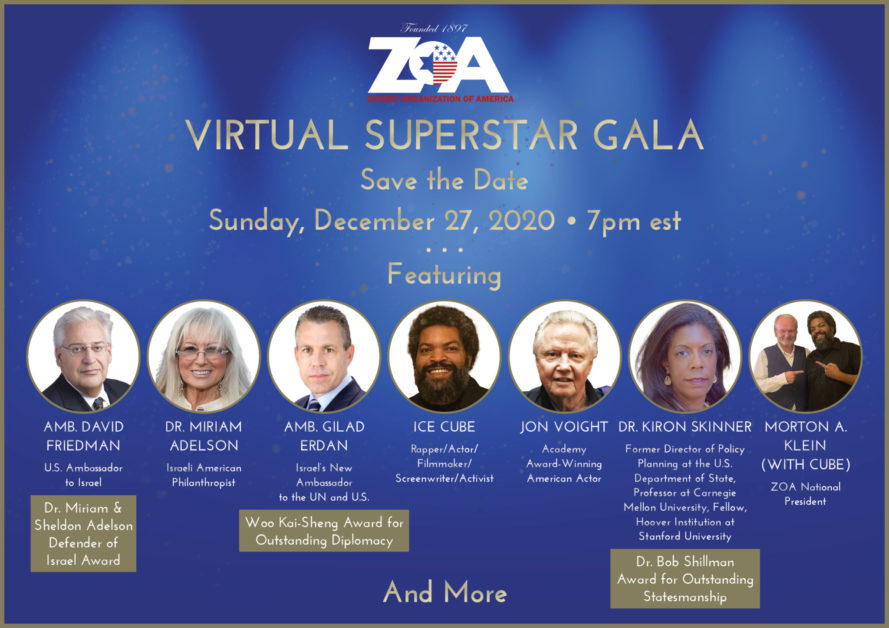 After former Vice President Joe Biden secured enough Electoral College votes (290-217, at the moment) to win the 2020 United States presidential election, ZOA and its leadership refused to acknowledge Biden's win over Trump. Klein is quoted saying, "I will not call him president-elect, I will say 'likely president-elect.'"
The Trump campaign has launched numerous election-related lawsuits in Arizona, Georgia, Michigan, Nevada, and Pennsylvania. So far, nearly every challenge has been rejected by the courts. Both Democratic and Republican legal experts have said it's extremely unlikely that any of the cases will overturn Biden's Electoral College victory.