Meek Mill's heart was presumably in the right place, but perhaps he didn't think this one through. On Tuesday (August 29), the Dream Chasers Records rapper fired off a desperate plea for his sick aunt on the Instagram platform Threads. He wrote, "My aunt just called my crying saying she can't breathe from complications and she not even that old… she need treatment in university of penn her name Tanika Nicholas help her please if you can!!! Til we get her help."
Within minutes, Meek Mill was back to posting about rap with no mention of what is happening with his aunt. Only one person seemed to find the post bizarre, writing, "If she can't breath, how did she talk to you, do you have any first aid training?" Meek has yet to reply.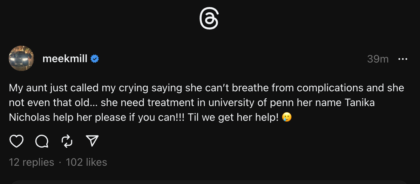 Of course, Meek Mill has been the butt of internet jokes numerous times. In July, Meek went viral after sharing a photo from his Reform Alliance partner Micheal Rubin's annual Fourth of July white party. After what was apparently a heavy night partying with his friends, Meek posted a photo of himself bent over the toilet bowl with the caption, "Too much liquor smh." Screenshots of the image were widely shared on social media.
Meek attracted more heat when he randomly shouted out "free Tory Lanez" during his performance at Rolling Loud Portugal earlier this summer. Critics accused Meek of supporting violence against women. But, he quickly defended himself online, writing, "I say free Young Thug… free [YFN Lucci]… free [YNW Melly]. I don't even know why y'all start dealing with us if yall gone try to smear us… That's why I stick to the trenches.
"Narrative control starts every Monday lol. Nobody gives a f### what these people talking, [we're] making real-life change out here every day! If I said free [Mumia Abu-Jamal] a. [I'm] gonna be shamed! He's allegedly guilty for killing a few male [cops]! I grew up to the Black nation screaming that! Why do y'all think y'all can control us? We got millions and real man influence, not internet tricks!"