Russell Simmons is on the receiving end of some damning allegations—this time from his own daughter Aoki Simmons and ex-wife Kimora Lee Simmons. Aoki, 20, not only leaked some private texts from the Def Jam Recordings co-founder, she also went on Instagram Live and tearfully accused him of verbal abuse. She then uploaded a muted video of her father visibly angry and shouting during their FaceTime call, something Russell clearly regrets.
On Monday (June 19), as both Russell Simmons and Aoki trended on Twitter, the business mogul took to Instagram where he apologized for losing his temper.
"God is testing you a little bit, it's ok, be strong," he wrote alongside modeling photos of Aoki and his other daughter, Ming. "They are called growing pains. As you know, we grow through adversity and struggle. You read my books and heard me preach your whole childhood. Reach back and try to remember 'smile and breathe,' 'smile and breathe.' You are the watchers of this world, so let go. Be at ease. God is driving and he is working on you.
"DEEPLY sorry for being frustrated and yelling. But know this, there are no conditions. For sure I love you guys more than I love myself."
Aoki, however, is convinced her dad needs help and could be suffering from some kind of mental break.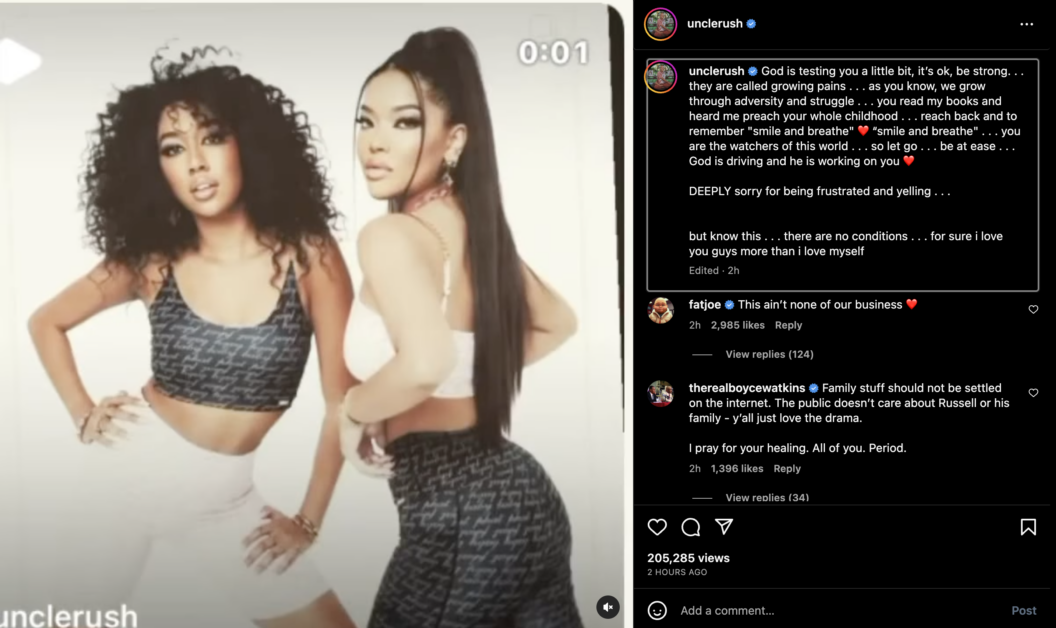 But like many others who've watched the Simmons family dynamic implode online, Fat Joe thinks they should take their conversations offline. He wrote, "This ain't none of our business" and added a heart emoji.
Boyce Watkins added, "Family stuff should not be settled on the internet. The public doesn't care about Russell or his family. Y'all just love the drama. I pray for your healing. All of you. Period."
As for Kimora Lee Simmons' part, she claims her ex-husband threatened their daughters' lives. The fashion brand owner told her side of the story via Instagram Live in solidarity with her daughter. She says Russell Simmons has been blocked from her social media for a long time and continually paints a picture of a happy family when they're anything but.
Even so, Aoki's last two Instagram Stories show plenty of love for her father. In one, she shared several screenshots of past Father's Day and birthday posts. She wrote, "I have always shown up for my Dad as a daughter can. I have always been in his corner. I have tried everything I could try."