YouTube personality Tasha K and the flashy Bishop Lamor Whitehead are embroiled in a staggering $360 million lawsuit.  
Tasha K, known for her popular YouTube show "Tasha K Live," produced by Florida-based Yelen Entertainment LLC, has found herself in the crosshairs of Bishop Whitehead, a controversial figure in his own right. 
The legal dispute arose after Tasha K Live reported on the controversies surrounding Whitehead, including an interview with him and why she decided not to publish specific allegations that Whitehead had encouraged her to report. 
Following these episodes, Whitehead threatened to sue her for defamation, and now he has made good on his threat. 
Whitehead's colossal lawsuit challenges six statements made by Tasha K in her May 2023 videos. 
These include claims that Whitehead bought a $2 million mansion with only $10 in the bank, that he tried to use Tasha K to intimidate a witness in a criminal case, and had a church transfer its building to him, which he was later evicted from – an act that could be considered fraud.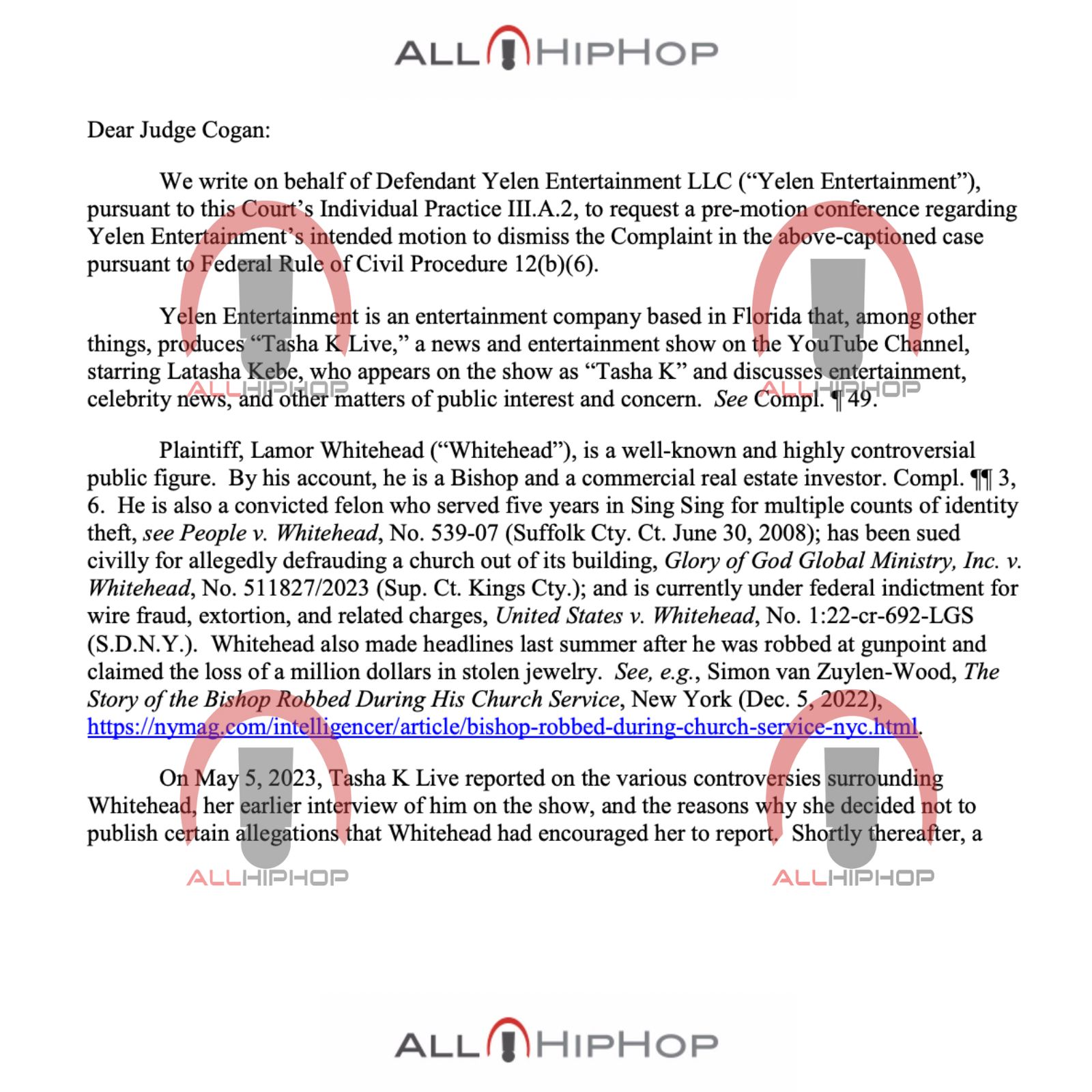 Yelen Entertainment, which produces Tasha K's show, has countered these allegations, arguing that many of the statements are "fair and true" reports of judicial proceedings and are immune from defamation claims. 
They also argue that most of the challenged statements are not actionable as they are opinions, speculation about the future, or loose, hyperbolic language.
Whitehead, a self-proclaimed Bishop and commercial real estate investor, has a checkered past that includes a five-year stint in Sing Sing for multiple counts of identity theft, a civil lawsuit for allegedly defrauding a church out of its building, and a current federal indictment for wire fraud, extortion, and related charges.